What Not to Do After Baltimore
The U.S. could learn from the mistakes of the U.K. and France.
by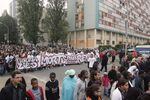 Sandtown-Winchester, the area of Baltimore where riots broke out on Monday after a black man died in police custody, has a lot in common with Paris suburb Clichy-sous-Bois and London's Tottenham, where rioting was set off by police violence against blacks in 2005 and 2011, respectively. The governments in France and the U.K. have had years to fix those broken places, and they have largely failed. U.S. authorities should avoid making the same mistakes in Baltimore and elsewhere.