Editorial Board
Stay Patient, Janet
The latest economic data suggest there's no need to rush to raise interest rates.
by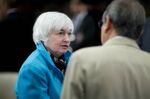 The U.S. Federal Reserve indicated Wednesday that it is willing to wait a few more months -- and possibly longer -- before pulling back further on economic stimulus. Judging from the latest data on output and inflation, patience is absolutely the right policy.
In deciding when to end what has been an unprecedented period of near-zero interest rates, the Fed must strike a delicate balance. On the one hand, it wants to spur enough growth to get millions of unemployed and underemployed Americans back to work, and to get stagnant wages rising again. On the other, it doesn't want to start an inflationary spiral that would be difficult to control.
Fresh data on the state of the economy suggest the Fed still has plenty of room to run. The Commerce Department estimates that gross domestic product increased at an annualized, inflation-adjusted rate of only 0.2 percent in the first three months of this year, well below the 30-year average of 2.7 percent. A stronger dollar weighed on exports, while a plunge in oil prices took a bite out of business investment as energy companies cut back. Consumers chose to hang on to much of the money they saved at the gasoline pump -- a move that will benefit their finances in the long run but dampens spending in the short term.
Inflation, meanwhile, has been hard to find. Thanks in large part to cheaper oil, the Commerce Department's measure of consumer prices actually declined at an annualized rate of 2 percent in the first quarter. Excluding food and energy, prices rose at an annualized rate of only 0.9 percent, well below the Fed's overall target of 2 percent. Here's how that looks:

In the statement it released at the end of its two-day policy meeting, the Fed recognized the economic slowdown, which it attributed in part to "transitory factors." True, growth is expected to bounce back from a difficult winter, but with the country still short at least 3 million jobs, the damage wrought by the 2008 financial crisis and subsequent recession remains far from undone. Until the evidence of inflationary pressures becomes overwhelming, the Fed should keep trying.