view
Hillary and Jeb, Jobless Candidates
Do unemployed office holders have the edge again?
by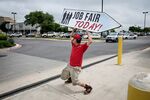 Why are we seeing a resurgence of successful presidential candidates who aren't currently holding public office? The heart of the question is whether it's just a fluke or if it means the nomination process itself is changing. 
First, some history. From the beginning of the modern nomination system in 1972 through the 1984 cycle, out-of-office politicians won three of the four open nominations: Jimmy Carter in 1976, Ronald Reagan in 1980 and Walter Mondale in 1984. (And ex-Governor Reagan came close to defeating an incumbent president for the 1976 nomination.)
In that period, only George McGovern, in 1972, was nominated while holding office. Carter's success, in particular, convinced many political experts that the reformed system gave an edge to those who weren't distracted by the responsibilities of governing (see Josh Kraushaar for a related argument).
But if that advantage was real, it soon wasn't big enough to matter. From 1988 through 2008, current office-holders won all nine open presidential nominations. The closest "former" during this era? Maybe Mike Huckabee in 2008, who didn't come all that close at all.
In 2012, however, Mitt Romney captured the Republican nomination despite having left office in January 2007; the only employed politician in that race to come close in any way was then Governor Rick Perry. 1
Now, Hillary Clinton has seemingly wrapped up the 2016 Democratic nomination three years after leaving the State Department, while over on the Republican side very former Governor Jeb Bush has as good a chance to win as anyone. If he fails, the two most likely other candidates, Scott Walker and Marco Rubio, are both current office-holders, but several long shots aren't (Huckabee, Perry, Rick Santorum). 
In the early years of the reformed process, the caucuses and primaries were extremely important. The only successful strategy was to win early and build momentum. The more time a candidate spent on the campaign trail nailing down small groups of voters in Iowa and New Hampshire, the better his chances.
Then as parties reasserted control over nominations, the relative importance of primaries and caucuses receded. The party actors who came to play a more important role in choosing nominees were relatively more likely than Iowa and New Hampshire voters to appreciate governing accomplishments, so holding office became an advantage, not a burden. 
Granted, just because the data (which is limited, as is always the case with presidential elections) fits that story doesn't mean it's true. What are the possibilities to explain the reappearance of the jobless as serious contenders?
It's a fluke. The pattern is real (unemployment advantage in the 1970s and 1980s, office-holding advantage since then) but the recent resurgence is random.
These are fads that have little to do with the process. Perhaps after Jimmy Carter's failure as president and Walter Mondale's loss as a general-election candidate, preferences changed; they may be changing again now.
It has something to do with dynasties: Bush, Clinton and Romney. 
It has always been an advantage in the post-reform era to be out of office; the flukes were the office-holding nominees.
Something has changed about the process, just as it changed in 1972 and then again more slowly in the 1980s. It's pushing a new kind of candidate to the front. If so, it may have to do with money in elections, or it could be a factor we haven't identified yet. 
My bet is on some combination of the first three reasons. For now, that is.
Perry gave Romney his most significant challenge during the invisible primary -- the period leading up to the caucuses and primaries. He collapsed, with both voters and party actors alike, mainly because of his horrible debate performances. Whether primary and caucus victories by Newt Gingrich and Rick Santorum were anything more than sideshows is debatable. 
To contact the author on this story:
Jonathan Bernstein at jbernstein62@bloomberg.net
To contact the editor on this story:
Katy Roberts at kroberts29@bloomberg.net
Before it's here, it's on the Bloomberg Terminal.
LEARN MORE