Fed Signals Tightening, Loosely
Once the hikes begin, the Fed would work hard to convince the markets that the pace will be slow, hesitant and subject to course correction.
by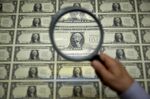 The Federal Reserve Board's comments today support the view that the rate-increase cycle it intends to embark on will constitute the loosest tightening in its modern history: an uncertain start, a shallow path and a terminal point below historical averages. The reasons for this are both domestic and foreign; and the longer-term implications are unusually uncertain.