Play Ball, Baltimore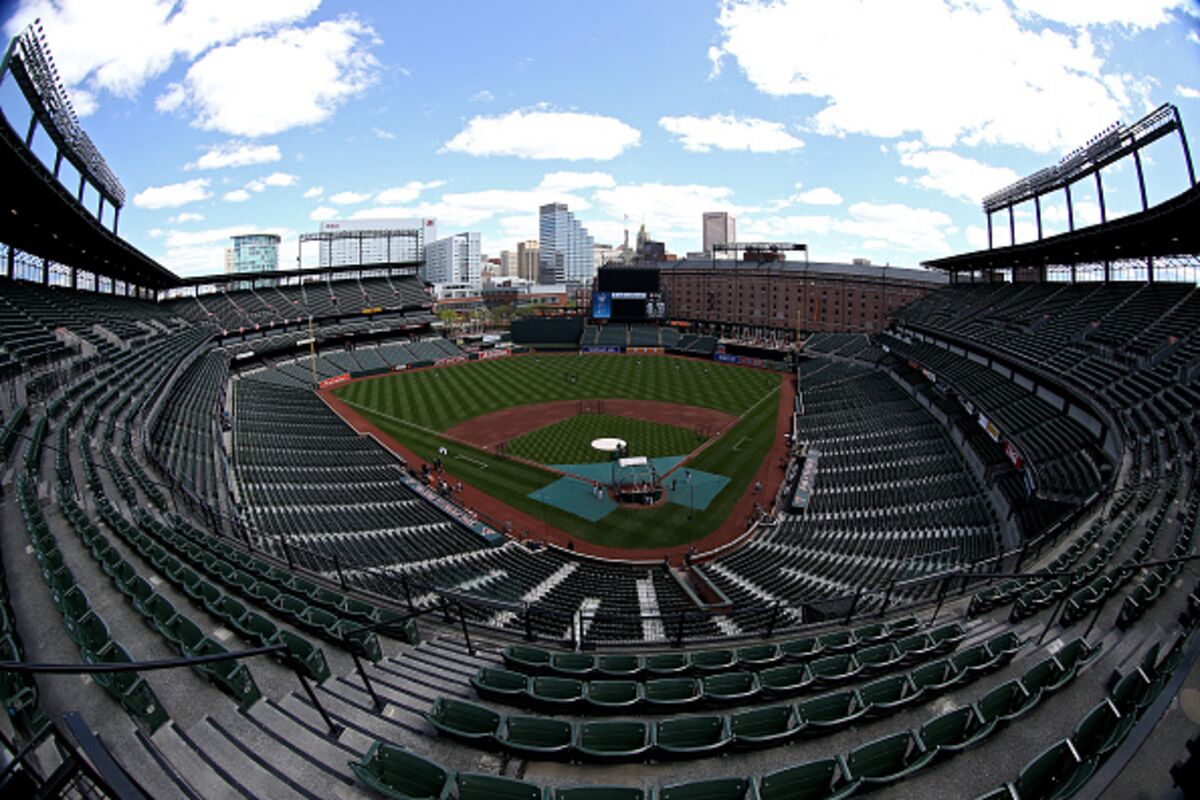 Root, root, root for the ... oh, never mind.
Photographer: Patrick Smith/Getty Images
In some ways, it's easy to make too much of the sad spectacle that is taking place this afternoon at Camden Yards in Baltimore, where for the first time in Major League Baseball history two teams will play before an empty stadium. It's only a game, as they say.
At the same time, by not allowing fans in the stadium, baseball executives are making a bad situation in Baltimore worse. After Monday's riots made global headlines and deeply embarrassed the city, residents spent Tuesday in the streets cleaning up the mess. That sent an important signal about the city's resilience.
Instead of building on this spirit, MLB and the Baltimore Orioles are hiding -- and running scared. Not only have they closed Wednesday's game to fans (though they will still be able to watch on TV), but they also are moving this weekend's planned home series against the Tampa Bay Rays to Florida. By the time the Orioles return on May 11, they will have gone 15 days without a public home game. To put that in perspective: In 2001, the New York Mets played a home game 10 days after the attacks of Sept. 11.
Baltimore desperately needs to show the world that it is open for business and welcoming to visitors. Not tomorrow. Not next week. Today.
The Orioles and MLB say that the decision was made out of concern for the safety of players and fans, which is a vote of no confidence in city and state officials. It's not clear if MLB and the Orioles consulted with Baltimore Mayor Stephanie Rawlings-Blake or Maryland Governor Larry Hogan in making their decision. But the mayor and governor should have insisted: Open today's game to fans or don't play the game at all.
Taxpayers coughed up $210 million in 1992 to build Oriole Park at Camden Yards, with the hope that it would help revitalize downtown. Whether the investment paid off is debatable, but there is no doubt that the owner of the facility -- the public -- deserves access to it. If the renters try to shut out the public, the public authority that owns the stadium should have shut out the renters.
Having failed to do that, city and state officials should now deliver an ultimatum to the Orioles and Major League Baseball: Keep the games in Baltimore this weekend. It's hardly an extreme position, and with the world watching, the mayor and governor need to start restoring public confidence in the city by demonstrating that it is a safe place to work, visit and, not incidentally, see a ballgame.
To contact the senior editor responsible for Bloomberg View's editorials: David Shipley at davidshipley@bloomberg.net.