Apple, Goldman and the Fear of Falling
Many companies have discovered that it's lonely at the top.
by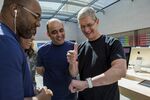 By every measure that counts, Apple had an extraordinary quarter. It's currently the best performing technology bellwether, and tech is arguably the hottest place for investors to be right now. Apple's revenue and growth trounce those of other hardware makers like Dell and Hewlett-Packard. And it's wildly profitable, all while growing at breakneck speed.