What Justices Are Really Saying About Gay Marriage
Questions about marriage over the "millennia" and what Plato would say.
by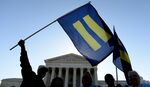 No one really believes that Tuesday's oral argument in the gay-marriage case, Obergefell v. Hodges, is an occasion for the justices to make up their minds about how they're going to vote. Rather, it's an exercise in making certain points, not so much to their colleagues as to the public. According to reports from the first section of the questioning, the justices had some messages they want you to hear.