The Next Gay-Rights Hurdle for Republicans
Conservatives win if equality issue fades.
by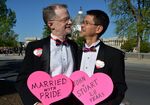 Will Republican politicians breathe a secret sigh of relief if the Supreme Court establishes marriage equality throughout the U.S.? With most Americans -- particularly young voters -- in favor of gay marriage, such a decision would save conservative candidates from having to explain over and over why they adamantly oppose it.