Investors Lose Faith in Turkey
Lira, stocks and bonds are all suffering.
by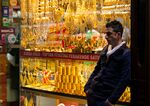 Everyone knows that Argentina, Greece and Ukraine are closest to hell among debt-besieged nations. Now another country is falling into investor purgatory. That's Turkey.
What a change! Under the leadership of President Recep Tayyip Erdogan, who came to power as prime minister in 2003, the story of Turkey this century has been of robust growth and the mostly fulfilled promise of renewed prosperity.
Not anymore. For the first time in at least a decade, Turkey is simultaneously suffering from slowing economic growth, declining bond and stock markets, a currency that's performing abysmally, and the perception that its credit is deteriorating, according to data compiled by Bloomberg. Investors no longer are showing confidence in President Erdogan.
The lira has depreciated 13.12 percent so far this year, the worst performance measured in U.S. dollars among the 31 most-traded currencies, according to data compiled by Bloomberg. Weakness is only part of the currency story. As measured by the lira's implied volatility, or bets on the currency's future stability, Turkish money is hurtling toward instability faster than any other.
Turkish stocks are plunging while shares of companies from other emerging markets rise. So far this year, the 30 Turkish companies on the nation's BIST index have fallen 15.6 percent. By comparison, the benchmark for stocks from all the emerging-market countries is up 10.9 percent. Stocks from emerging-market countries in Europe, Africa and the Middle East also are rising, by 8.9 percent measured in U.S. dollars, according to Bloomberg data.

In the bond market, Turkey is behaving more like Argentina, Greece and Ukraine than the rest of Europe and even emerging markets. The country's lira sovereign debt lost 17.4 percent in 2015; comparable emerging market bonds gained 1.4 percent, as measured in U.S. dollars. At the same time, Turkey's dollar-denominated sovereign debt produced a 0.45 percent total return for the year so far, the worst after Ukraine in emerging markets, while emerging-market bonds returned 3 percent, according to Bloomberg data.
The perception of Turkey's creditworthiness also is plunging. Just look at the fast-rising price of its credit default swaps, insurance that bondholders buy to protect themselves from losses. By this measure, the only countries whose debt has been more suspect over the last three months are Argentina, Greece and Ukraine, according to Bloomberg data.
Grimmest of all for Turkey, economic expansion has stalled. By the end of 2014, the growth of the country's gross domestic product had fallen to 2.58 percent, one-fifth of what it was at its peak in 2010. Significantly, year-over-year GDP growth sputtered below its moving average for 12 consecutive quarters -- the first time that's happened since at least 1997, according to data compiled by Bloomberg. Even during the last recession, triggered by the financial crisis of 2008, there were only 10 consecutive quarters when Turkey's GDP growth was below its moving average.

And the future? Economists see Turkish GDP growth rising to 3.3 percent this year, 3.8 percent in 2016 and 4.0 percent in 2017, according to data compiled by Bloomberg. There's no escaping the conclusion that these are mediocre targets compared with the results of the past 15 years, when GDP growth went as high as 12.59 percent.
No doubt there are worse places to invest. But not many.
(With assistance from Shin Pei)
This column does not necessarily reflect the opinion of Bloomberg View's editorial board or Bloomberg LP, its owners and investors.