God Doesn't Hate the Designated Hitter
Admit it: No one wants to watch pitchers try to bat.
by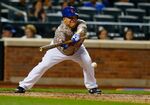 Whenever a pitcher suffers an injury running the bases, it reignites the debate over whether the National League should finally adopt the designated hitter. For the most part, the arguments favoring a universal DH aren't new, but then again, neither is the mentality that maintains the vestige of pitchers batting in the dubious name of "tradition."
On Sunday, St. Louis Cardinals ace Adam Wainwright was placed on the disabled list after stumbling out of the batter's box while hitting against the Milwaukee Brewers the previous night. Wainwright was diagnosed with a torn left Achilles and will miss the rest of the season.
Wainwright's injury has renewed the calls for the DH in both leagues. Such a stance is often taken by American League teams who lose their pitchers to injury during interleague play, citing the disadvantages they face with hurlers who aren't used to hitting. In 2008, New York Yankees co-chairman Hank Steinbrenner didn't mince words after ace Chien-Ming Wang injured his foot while rounding third against the Houston Astros, then part of the NL. "The National League needs to join the 21st century," Steinbrenner said. 
Similarly, in 2009, Toronto Blue Jays manager Cito Gaston voiced his displeasure with interleague play after closer Scott Downs injured his foot while breaking out of the batter's box against the Philadelphia Phillies. "Our [pitchers] don't take batting practice every day," Gaston said. "They don't run. So things like this are going to happen until somebody wakes up and says, 'Look, let's play the DH the whole time or call it off.' "
Batting itself is also a risk to pitchers who don't regularly work on their swinging motion. In 2010, Boston Red Sox starter Josh Beckett suffered back spasms after taking practice swings in preparation for an upcoming interleague game. Two years earlier, Red Sox pitcher Bartolo Colon hurt himself "executing a series of violently wild swings" during interleague play.
But interleague play itself isn't the culprit, and AL pitchers aren't the only ones at risk. Wainwright was injured in a matchup of two NL teams, as was San Francisco Giants pitcher Ryan Vogelsong, who fractured his pitching hand on a hit-by-pitch against the Washington Nationals in 2013. In 2009, Giants lefty Randy Johnson suffered a left-shoulder strain while striking out against the Astros. Last week, Nationals pitcher Max Scherzer, who spent the majority of his career in the AL before this season, was pulled from a start after jamming his thumb on a ground-ball swing.
It's understandable that injury fears amplified by Wainwright's ankle have reminded people that having NL pitchers hit is more trouble than it's worth. Scherzer himself called the injury "brutal" and seems to advocate the DH in both leagues.
A common criticism of the DH is that as top-paid, world-class athletes, major-league pitchers should be able to swing a bat or run the 90 feet without hurting themselves. But as Wang's teammate Mike Mussina explained at the time, pitchers are susceptible to injuries on the basepaths simply because running around a diamond isn't part of their regular workout routine. "We run in straight lines most of the time," he said. "Turning corners, you just don't do that." And as previously noted, since a pitcher's primary job isn't to hit, he can't be faulted for not having perfected his swing.
That said, I'm inclined to agree with Cleveland Indians manager Terry Francona, who believes it's time to bring the DH to the NL, but not simply because a handful of guys got injured. He wants consistency in both leagues so that the NL doesn't gain an advantage over the AL during interleague play. 
One point from the anti-DH crowd is that familiar appeal to "tradition" that baseball purists trot out whenever they don't have an actual argument for impeding progress. But baseball's self-imposed inertia has historically caved to innovations that ultimately made the game better, from integration to interleague play to instant replay.
Purists seem to want to pick and choose which "traditions" they hold dear, but you could argue that the DH actually upholds one of baseball's oldest traditions: specialization. The principle of using players with specific skills in specific positions first came about in the mid-19th century, when athletic clubs promoted rigorous practice and fundamentals.
Baseball commentators of the era took training and practice one step further, arguing that teams should play the "first nine" -- the starting lineup -- against the field, so that the best players got used to playing with each other as a team in their individual positions. As far as baseball traditionalists go, it's hard to argue with Henry "Father of Baseball" Chadwick, who wrote in 1867: "The change in regard to keeping players in their regular positions was a natural sequence of an improved knowledge of the points of the game." He later added: "It is injudicious to take an outfielder, accustomed to running catches and long throws, and place him in the in-field, where his business is to stop hot ground balls and to make short and accurate throws."
The modern game of baseball doesn't much resemble what Chadwick describes in his seminal work, "The Game of Base Ball," but the logic holds constant: It is "injudicious" to take a pitcher, accustomed to standing on a mound and throwing the ball, and place him in the batter's box, where his business is to swing and run and slide and do a bunch of things he's not highly trained -- or specialized -- to do.
There are plenty of other reasons the DH would be good for baseball. As Scherzer notes, fans get more out of a hitter who simply knows that he's doing. "Who would people rather see, a real hitter hitting home runs or a pitcher swinging a wet newspaper?" he told CBS Sports. He also noted that having a rotation at DH "also helps position players" and that it would make for more scoring.
Baseball has simply outgrown pitchers in the lineup. Having pitchers hit made sense in an era in which pitchers could hit. But the ever-specializing game has given rise to pitchers who are starters and relievers and closers alongside the decline of pitchers who are hitters.
This is why I find it unconvincing when anti-DH advocates laud the increased strategy that managers have to employ in the NL. Sure, double-switching and pinch hitting create interesting fodder for second-guessing coaches' moves, but the supposed "strategy" is built on a faulty system in which one of every nine outs is all but guaranteed.
In his own column calling for the DH in the NL, NBC Sports' Craig Calcaterra pointed to a tweet from a reader that inadvertently exposed the blind faith of baseball purists. This reader called the DH an "abomination," a religious word with Biblical roots. "Adherence to pitchers batting is more religion than it is reason," Calcaterra writes. "Based on beliefs, history and faith rather than reason and objective evidence."
It's true: Calcaterra's reader and the countless others who use a word like "abomination" to condemn the DH do so with a decidedly moral fervor. This itself demonstrates a misunderstanding of what is abominable, and of the very arguments against the DH. Contrary to its distorted modern usage, the word "abominable" -- in the Biblical sense -- carries no connotation of moral judgment. According to Biblical scholars, the word "abomination" as used in the holy text really means "ritually improper." In other words, when you call the DH an abomination, you're not saying it's wrong or immoral or depraved -- you're just saying it's not how it's always been.
And neither is baseball. Let's finally acknowledge that and stop pretending that having a pitcher come up with two outs and runners on isn't totally deflating. It's time to make the DH universal and stop this lie.
The one downside: As my editor notes, if pitchers didn't bat, we would be deprived of the wonder that is Bartolo Colon's swing, and the world would have a little less joy in it.
This column does not necessarily reflect the opinion of Bloomberg View's editorial board or Bloomberg LP, its owners and investors.