China's Middle Class Can Finally Afford IPhones
The global economy will never be the same.
by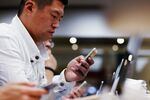 The most obvious way to read Apple's latest quarterly earnings report -- which revealed that iPhone sales in China had surpassed those in the U.S. for the first time -- is as a compilation of great news about the company's bottom line. But it's also a sign that China's consumer market is finally starting to come into its own. It might even mark China's so-called "Henry Ford moment," when a sizable portion of the country's workers can finally afford to buy the things they're manufacturing.