Baltimore's Nightmare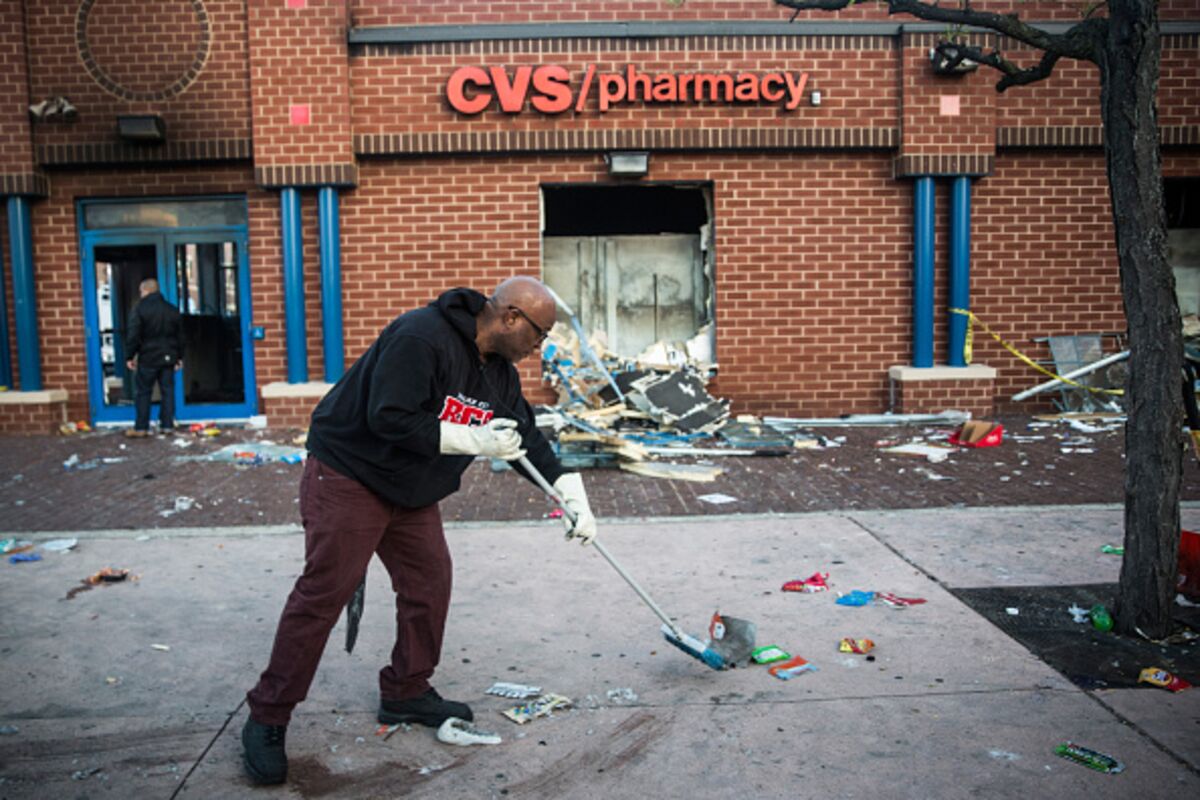 Photographer: Andrew Burton/Getty Images
It is pointless to ask which is more outrageous: deadly police misconduct or when violence erupts in response to it. Both are -- but those who rioted and looted Monday night in Baltimore have now ensured that the focus will be more on the latter than on the former. 
That's what happens when gangs of "thugs" (as Mayor Stephanie Rawlings-Blake called them) and "criminals" (the term President Barack Obama used) roam the streets of a major American city, attacking police officers and destroying property. Just a few days ago, Baltimore was facing the daunting yet crucial task of trying to clean up its police department. Now it has to do that and begin restoring a reputation tainted by images of violence and destruction seen around the world. 
It's worth noting that even the pastor who eulogized Freddie Gray, the young man whose death in police custody set off the peaceful protests that were overrun by violence, said the rioting was an embarrassment. So did the Baltimore residents who showed up Tuesday morning to clean up the destruction from the night before. 
The violence amounts to an enormous self-inflicted wound -- to a city that has been working for years to recover from decades of capital and population flight. From 1950 to 1970, more than 900,000 people lived in Baltimore. Over the next 40 years, as industrial jobs disappeared and crime soared, the population steadily shrank, by almost a third. Other than Detroit, few cities of Baltimore's size have experienced such a hollowing out.
Only recently -- after long, hard work led largely by black community and political leaders -- has this trend been halted. In 2012 and 2013, the city added 2,500 residents, a small but symbolically important gain, before falling by 600 people last year. Rawlings-Blake set a goal in 2011 of attracting 10,000 more families to Baltimore. It would have been hard for Baltimore's residents to deal her a bigger setback than a few of them did Monday night. 
Those who started and led the riots have no recollection of Baltimore's boom days. Few do. But many residents have dedicated their lives to making the city great again -- by reclaiming abandoned properties, organizing neighborhood associations and participating in volunteer activities. On Monday, every brick that was hurled, every fire that was set, every store that was looted -- each one insulted and undermined their work. 
As Obama noted, there remain too many unanswered questions about the death of Gray and the stubborn persistence of an underclass in America. At the same time, as he also said, "we can't just leave this to the police." In that sense, the scenes across the city of Baltimore residents cleaning up the mess are heartening. And just maybe it's not too much to hope that Monday's marauders will see their elders and neighbors doing this work -- the kind of work that has been going on for decades -- and see anew the value of pitching in and building up.
To contact the senior editor responsible for Bloomberg View's editorials: David Shipley at davidshipley@bloomberg.net.