Marriage Bans Echo School Segregation
Subjecting gays and lesbians to second-class citizenship.
by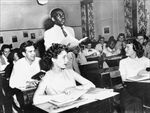 The same-sex marriage cases, which will be argued Tuesday, may well rank among the most important constitutional disputes in American history. The best analogy is Brown v. Board of Education, the iconic 1954 decision in which the Supreme Court struck down school segregation. The parallel is very close, and it clarifies what the same-sex marriage cases are really about.