3 Tough Choices for ECB on Greece
Will the central bank pull the plug?
by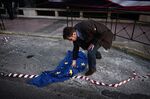 As another meeting of euro area finance ministers ended in acrimony Friday, the focus this week will turn to the resumption of -- it is to be hoped -- more constructive technical discussions between Greece and its European partners. Yet the most potentially decisive discussions will be taking place in a different venue: Decision makers at the European Central Bank will hold their weekly consideration of how much "emergency liquidity" they should extend to Greek banks and on what terms.