Japan Needs to Cut Rice Farmers Down to Size
A tiny group is holding up a massive trade deal.
by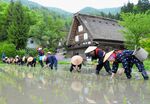 Japanese Prime Minister Shinzo Abe has been vowing for years to take on the vested interests impeding his country's economy. Until now, he hasn't done much to make good on those promises. But he was recently handed a perfect opportunity to do just that.