When Women Thrive, So Will the World
Japan can lead the way with more female executives and more engagement abroad.
by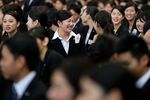 When I took office in 2012, I was determined to promote a society in which all women had a chance to shine. Indeed, Japan cannot truly thrive in the 21st century unless all our citizens reach their fullest potential.