Women
When Women Thrive, So Will the World
Japan can lead the way with more female executives and more engagement abroad.
by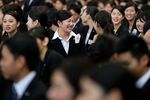 When I took office in 2012, I was determined to promote a society in which all women had a chance to shine. Indeed, Japan cannot truly thrive in the 21st century unless all our citizens reach their fullest potential.
The distance we have to travel to meet that goal is captured in one statistic: Although the percentage of Japanese women completing higher education exceeds that of most other developed countries, their rate of participation in the labor force is low. For those women who joined the workforce, too many had to leave once they got married or had children. What a terrible loss of talent. However, this also means Japan has enormous growth potential, still to be tapped.
I am determined to make Japan a country where opportunities for women abound, and glass ceilings are a thing of the past. Already, the number of working women has grown by more than 800,000 over the past two years, exceeding 27 million as of January. What's more, the number of female executive officers at listed companies has increased by 30 percent since 2012, and now exceeds 800. The question is no longer whether to pursue the advancement of women but what positions and roles they should take on, and how soon.
Clearly, we must do more. For this reason, I set a target to increase the number of women in leadership positions to 30 percent by 2020. I also submitted to the Diet in February a bill that will require companies to devise plans for employing more women and appointing them to management and executive positions.
The benefits will be widespread. Having an economy or society run under women's distinctive ways of thinking will bring us a richness that we were unable to experience before. One quick example: At one of our leading automotive companies, a team of designers, made up mainly of women, developed a car with doors that open wide, making it easier for people holding children to get in and out. This car was the top-selling vehicle in Japan for five months in a row.
To keep more Japanese women in the workforce, we need to provide them more support outside the workplace. This is why I expanded the number of openings at child-care facilities by 200,000 since 2013 and increased assistance for families raising children. Last year, a new parental leave system went into effect, making it easier for both mothers and fathers to take time with their families.
At the same time, companies and local governments have undertaken their own efforts to expand opportunities for women. In this way, women's engagement in Japanese society is now expanding at a robust clip.
This expansion is vital if Japan is to meet a challenge that will face many developed nations in years to come: the aging of its population amid a drastic decline in birth rates. If we can succeed in spurring a deeper involvement of Japanese women in their workplaces and communities -- something that is essential to Japan's sustained growth -- our efforts could also provide a model for other countries facing similar challenges.
The contributions and dynamic engagement of Japanese women around the world provide ample proof of this concept. In Cambodia, the midwifery skills taught by Japanese women have helped to halve the country's infant mortality rate. In Panama, Japanese women have worked with Panamanian women to build a thriving business that turns waste oil into soap. In Bangladesh and Nepal, we have helped to establish light manufacturing industries, which in turn have provided workers with pensions and health care. On a recent trip to India, I was delighted to learn that a Japanese woman was leading local workers as the chief quality supervisor for the construction of a new subway in Delhi. I am very proud of them.
Japan will continue to support such efforts. At the 2013 United Nations General Assembly, I pledged $3 billion in development assistance focusing on the advancement of women. In September 2014, my government convened the World Assembly for Women to bring together wisdom from around the globe on expanding women's active engagement. Participants came from 24 countries and six international organizations. We will hold another such conference this year, and hope to keep holding them for years to come. A Japanese woman, Yoko Hayashi, who leads the UN Committee on the Elimination of Discrimination Against Women, is another example of Japan's contribution.
These efforts reflect long-held convictions. Like first lady Michelle Obama, my wife Akie and I believe that it's essential for any women's project to involve the education of girls, particularly in developing countries. We have been engaged for decades in assistance to establish educational institutions, mainly in Asia. Children must not be deprived of the chance for an education because of their parents' poverty. Seeing to it that girls are educated is critical to arresting poverty; breaking the chain of poverty will in turn reduce the source of conflict.
We must not forget that women's human rights are apt to be jeopardized, particularly in the face of war and poverty. In the 20th century, women's honor and dignity suffered profound harm in various places when conflicts broke out. This is still the case around the world. We must not avert our eyes from this reality, and Japan intends to do all it can to address the plight of women endangered by conflict.
Last year at the UN General Assembly, I pledged that Japan would lead the international community in eliminating sexual violence during conflicts. We will join with UN agencies and the international community to renounce all forms of violence against women and to create a zero-tolerance culture. Working with the U.S. and other world leaders, our goal is to make the 21st century world one that is free of human-rights violations against women.
To contact the editor responsible for this story:
David Shipley at davidshipley@bloomberg.net
Before it's here, it's on the Bloomberg Terminal.
LEARN MORE