Aipac vs. Pro-Israel Republicans
A fight over amendments to an Iran bill divides allies.
by and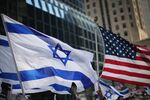 The American Israel Public Affairs Committee has been quietly pressing Republicans to oppose a series of pro-Israel amendments that lawmakers will try to add to the Iran legislation coming up for debate on the Senate floor next week. 
At issue is the Iran Nuclear Agreement Review Act, a bipartisan bill authored by the Republican chairman of the Senate Foreign Relations Committee, Bob Corker. Earlier this month, the bill was voted out of Corker's committee unanimously, with strong support from Democrats and a promise from President Barack Obama not to veto the bill if it reached his desk without amendments that he said could imperil the Iran nuclear negotiations.
Senate staff members tell us that since Monday, senior Aipac lobbyists and board members have had face-to-face meetings and phone calls with leading senators to try to dissuade lawmakers from voting for the Republican amendments.
But that is an awkward place to be for the largest pro-Israel lobby in Washington. Senator Marco Rubio, for example, filed an amendment Thursday evening requiring Obama to certify that Iran has publicly recognized Israel's right to exist as a condition of getting Congressional approval of the Iran deal. Earlier this month, Israeli Prime Minister Benjamin Netanyahu proposed a similar idea, but Obama said such a demand would wreck the negotiations. Aipac is now taking Obama's side on whether a final nuclear accord with Iran should compel its regime to recognize Israel's right to exist. 
Aipac supports Corker's bill as is. Earlier this year, it quietly dropped its campaign to get Congress to pass new sanctions on Iran latched onto a previous version of the chairman's legislation. Corker's new bill, which has added concessions to Obama, would give Congress a chance to review an Iran deal and could provide for a vote on the deal, although language inserted at the last minute makes clear that Obama could begin implementing the agreement even if Congress votes against it.
Many Republicans, however, don't like Corker's bill as is. Majority Leader Mitch McConnell announced Thursday that when the bill comes to the Senate floor, there will be a "robust amendment process," and that he hopes the bill is strengthened. Republican critics say that the bill doesn't have any real mechanisms to stop Obama from lifting congressionally mandated sanctions although it does stop Obama from lifting those sanctions as Congress reviews the deal. 
Some also complain that the Corker bill doesn't require the nuclear deal to address other issues, including Iran's support for terrorism, its campaign against Israel and its imprisonment of U.S. citizens on trumped-up charges. And several Republicans, including presidential hopefuls Ted Cruz and Rubio, are planning to offer amendments to remedy what they see as the bill's weaknesses.  
All told, at least two dozen amendments are expected to be offered next week. Rubio alone has seven. Senator James Risch will propose an amendment to require Obama to certify that four Americans currently held in Iran are released from captivity before the Senate considers lifting any sanctions. Other measures would focus on Iran's support for terrorism and refusal to grant U.N. inspectors access to military sites.
 "I work very closely with Aipac, we do everything we can to strengthen the U.S.-Israel alliance, but obviously some times we have tactical disagreements," Republican Senator Tom Cotton told us.
Each of the Republican amendments would in practice require 60 votes to be added to the bill. Since most Democrats and Corker will oppose all of them, there is little chance any would be adopted. But McConnell's strategy ensures that Democrats are put in the position of voting against them, and perhaps paying a political price in their next elections. Aipac's opposition, however, lessens that political price considerably. 
In other contexts, Aipac has supported all the ideas behind all these amendments. One Aipac official even told us he feels many of the proposed Republican amendments have merit. But this official stressed that the lobby's position is that senators support the passage of a "clean" bill instead of risking an Obama veto or the loss of Democratic support. "Our fundamental view is that this bill is the first step of a number of different steps on the Iran deal," the official said. "The first and foremost priority is to make sure the bill gets passed to make sure congress is guaranteed a chance to pass judgment on the deal."
Some conservatives and Republicans, however, have already passed judgment on that deal. William Kristol, the chairman of the Emergency Committee for Israel and the editor of the Weekly Standard, wrote this week that Corker's bill was toothless. In a not-so-veiled reference to Aipac, Kristol wrote, "Not just the Obama administration, but the Republican chairman of the Senate Foreign Relations Committee and the leading establishment pro-Israel lobbying group, all prefer quiet acquiescence to and approval of a toothless bill rather than a serious debate and series of votes over our Iran policy."
That serious debate is now scheduled to begin next Tuesday. It may be confusing to figure out the pro-Israel side when it does.
To contact the authors on this story:
Eli Lake at elake1@bloomberg.net
Josh Rogin at joshrogin@bloomberg.net
To contact the editor on this story:
Tobin Harshaw at tharshaw@bloomberg.net
Before it's here, it's on the Bloomberg Terminal.
LEARN MORE