Syrian Refugees Aren't Europe's Burden Alone
Is the UN refugee agency adequately funded?
by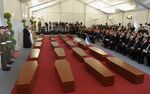 Today's emergency summit meeting on refugee shipwrecks in the Mediterranean Sea will provide plenty of reinforcement for those who regard the European Union as dysfunctional. Yet the migration crisis shouldn't be solely Europe's responsibility; countries that should be involved are doing even less than the EU members.