Obama's Orwellian Language on Drones
White House's favorite counterterrorism tool is less than precise.
by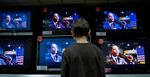 There is an eerie Orwellian cost to the Obama administration's refusal to use the term "War on Terror" to describe its ... war on terror. In his briefing after the White House's admission that two hostages -- one American, one Italian -- were killed in a U.S. "operation," press secretary Josh Earnest struggled mightily to avoid the word "war" to describe exactly what the U.S.is up to. Finally he gave in and stated that under the Authorization for Use of Military Force Against Terrorists, the nation is "at war" with al Qaeda.