The Reasons for a Meandering Market
U.S. stock markets might go nowhere for a while.
by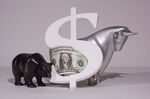 During the past few years, I have referred to market breadth as one of the more important metrics of the stock market's health. As we close in on new highs in the cumulative advance-decline line, it is time to revisit this internal indicator.
As the chart below shows, the Standard & Poor's 500 Index has rallied from its October lows. But for the past few months it has been unable to break out.



Source: Bespoke
The technical analysts at Lowry Research note that "Although the major price indexes remain at the upper boundary of their respective multi-month trading ranges, the current character of the market . . . still appears to suggest a sustained and decisive upside breakout from the trading range is unlikely over the near term."
The optimistic description of this in lay terms?: The market is taking a breather.
There are many possible reasons for this: Stocks may no longer be seen as cheap as they once were. The adjusted S&P 500 trailing 12-month price-earnings ratio is 20.58, according to data compiled by Bloomberg. That is high by historical standards. (Note that we are ignoring for the moment ultralow interest rates, which play a part in this elevated valuation). The forward 12 month P/E, according to Birinyi Associates, is a more modest (but not exactly cheap) 17.61.
Small wonder that markets display little clear direction. One day they seem headed lower based on futures trading, only to close up for the day. The next day, the opposite happens. Reversals abound. Buying seems to be selective, as a changing group of sector leaders and laggards is contributing to a lazy market that has no ambition. With summer just around the corner, this meandering and leaderless market may become even more pronounced.
One other thing to consider: U.S. indexes are still absorbing the impact of falling oil prices on earnings. Energy-related companies make up about 9 percent of the S&P 500.
The good news for the bulls is the lack of serious selling. The underlying foundation of the market, combined with the breadth, suggests potentially strong demand for shares. It also helps that record stock buybacks have significantly reduced the total supply of shares available for trading.
Whether markets break out of this pattern anytime soon is anyone's guess. But when we look at the balance between supply and demand, it is hard to see reasons for much movement in either direction in U.S. markets.
We see a very different picture in markets overseas. On Wednesday, the Nikkei-225 Stock Average closed above 20,000 for the first time since April 2000. European stocks quietly reached a record high, eclipsing their March 2000 peaks.  Stocks in Hong Kong rallied to seven-year highs. China's Shanghai Composite Index has doubled since January 2014.  
When we look at how market tops get made, it is usually on narrowing breadth and diminishing advances. The good news is that we are not seeing signs of that domestically. However, the bad news is the easy-money may have been made already -- at least, in the U.S.
Because of the large gains in the past six months, hotter markets abroad, elevated valuations and earnings hampered by low oil prices, U.S. equity markets could still have some wandering ahead of them. 
This column does not necessarily reflect the opinion of Bloomberg View's editorial board or Bloomberg LP, its owners and investors.