How Jay Z Caused Tidal's Hard Knock Life
The rapping entertainment impresario could learn from an old marketing case study.
by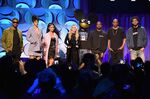 I can only vaguely remember the TV commercials. The new pain reliever Datril, the pitch went, was made of the same stuff as Tylenol, but it cost less. I can definitely remember my reaction: "What's Tylenol?"
At the time I figured it was just me. It was the mid-1970s, I was 11 or 12 years old, had recently graduated from St. Joseph's chewable aspirin to regular Bayer and didn't consider myself well-versed in over-the-counter analgesics. Years later, though, when I read Charles Mann and Mark Plummer's "The Aspirin Wars," I learned that millions of other Americans had the exact same reaction.
Johnson & Johnson bought Tylenol creator McNeil Laboratories in 1959 and got permission the next year to sell the drug -- acetaminophen  -- without a prescription. It marketed Tylenol through health-care professionals, though, not directly to consumers. By 1975 Tylenol had 10 percent of the market, but it had never advertised on TV and wasn't a widely known brand. Then Bristol-Myers changed everything with its Datril campaign.
The TV ads introduced America to two brands, and made clear that one (Tylenol) was the standard against which the other (Datril) should be judged. Yeah, Datril was cheaper but (1) that made it seem like Tylenol might be better and (2) Johnson & Johnson quickly cut Tylenol's price to reduce the differential. Tylenol's market share rose to 14.5 percent, Datril didn't get past 2 percent market share, and marketing professors were handed a wonderful case study on the perils of comparative advertising.
It's a case study so old, though, that it probably doesn't get taught much any more. I'm wondering if rapper and entrepreneur Jay Z could use a refresher. No, nobody actually mentioned incumbents Spotify or Pandora or Beats Music by name at the star-studded press conference he staged at the end of last month to introduce his artist-owned music-streaming service Tidal. But the positioning (and the subsequent media coverage) was nonetheless all about Tidal versus the incumbents. And while there was some talk about how audio quality would be higher on Tidal, the focus was on the difference in ownership and intent. As Jay Z said in the inaugural video (it's toward the end of the press conference video linked to above):
You can't make it to what we've accomplished without having that love of music be the foundation. I think it's one of the things that sets us aside from someone that's a tech company that's selling advertisement or selling hardware. Right now they're writing the story for us; we need to write the story for ourselves.
Well, the tech companies are still writing the story. Tidal briefly cracked the iPhone Top 25 download rankings in the U.S. right after its celebrity-studded relaunch, then plummeted into the 800s. Meanwhile, Pandora has stayed in the top 10 and Spotify actually rose starting in mid-March after a months-long slump (it's currently No. 17). In terms of app revenue, Pandora and Spotify rank even higher, in third and sixth place, according to App Annie. Wrote analyst Tero Kuittinen on the tech site BGR:
It looks like Tidal's attacks on Spotify and Pandora actually managed to increase public awareness of the services, boosting Spotify's download performance in particular at the end of March. And now, a few weeks later, the combined revenue performance of the two music apps is hitting a new milestone.
After a flurry of critical commentary like this -- and the breathless coverage Wednesday of Kanye West's deletion of all his pro-Tidal tweets (he eventually wrote a new one) -- Tidal did rebound a bit in the download rankings, to No. 664. Any attention can help a fledgling brand, at least for while.
It would only take one measly "r" to make Tidal into Datril's anagram, but I shouldn't oversell the parallel here. Pandora and Spotify weren't exactly unknown before Tidal's publicity blitz, although Spotify's brand awareness in the U.S. was still only 41 percent earlier this year. Tidal is having to cope with management turmoil and an increasingly crowded streaming market, not just an ill-conceived marketing campaign.
It also has to cope with a uniquely self-absorbed and tone-deaf group of owners. The idea of steering more music revenue to musicians may well have wide appeal, but the musician-owners of Tidal don't seem to know how to sell it. They are surely all multimillionaires already, of course, and in their comments so far they have come across as entitled and whiny. In the video that accompanied the launch, for example, the voice of what seemed to be one of the behelmeted members of the French duo Daft Punk intoned:
Looking at the '70s, artists were the icons. Right now the iconic elements are tech companies that think artists are products. Artists are not products.
Hmm. You kind of look like one with that shiny helmet covering your face, dude. And by repeatedly declaring that the tech companies are the new music icons, Team Tidal may simply have reinforced in consumers' minds the idea that tech companies are the new music icons.
This column does not necessarily reflect the opinion of Bloomberg View's editorial board or Bloomberg LP, its owners and investors.