Hillary Did Nothing Wrong, Tried to Hide It
The former secretary of state didn't sell out U.S. strategic interests to a Russian uranium company.
by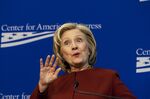 The New York Times is probably making a mountain out of a molehill by wondering whether Hillary Clinton helped Russia's state-owned nuclear energy company, Rosatom, buy U.S.-based uranium mining assets when she was secretary of state. Even so, her sneakiness in not disclosing donations from investors in the acquired company is disturbing.