Everyone Likes Obama's Foreign Policy Except Americans
Who would have thought that the GOP and Russia have the same opinion about Obama's global leadership?
by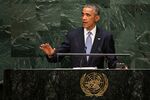 National security issues are likely to figure prominently in the 2016 election, and Republican candidates are already stepping up their attacks on the "Obama-Clinton foreign policy," which they claim has led to an alarming decline in U.S. global influence. A new global poll assessing the leadership of the U.S., China, the European Union, Germany and Russia suggests these charges may be off target, though it also raises questions about the role the rest of the world would like the U.S. to play.
For the second year running, a Gallup poll rates U.S. leadership more highly than that of other big powers. The survey of 1,000 respondents in each of 134 countries and Hong Kong gave the U.S. top marks, with 45 percent approval, followed by Germany (41 percent), the EU (39 percent), China (29 percent) and Russia (22 percent). The U.S. rating was four percentage points below its peak of 49 percent in 2009, after Barack Obama took office, but well above its low point of 34 percent in the last year of George W. Bush's administration, when U.S. leadership was outranked even by China.

Yet to listen to the Republican candidates , you would think the rest of the world viewed the U.S. as a hegemonic has-been. A sampling:
Former Governor Jeb Bush: Under this administration, "we have lost the trust and confidence of our friends."
Governor Rick Perry: "Our allies doubt us, and our adversaries are all too willing to test us."
Senator Ted Cruz: "Today, the consequences of the Obama-Clinton foreign policy is [sic] that our friends no longer trust us, and our enemies no longer fear us."
In fact, in their vehement criticism of U.S. global leadership under Obama, Republicans have some odd bedfellows: In Russia, only 4 percent of respondents gave a grudging "da" to U.S. performance.
It's true that the global median number could hide a big drop in approval among U.S. treaty allies. A look back over previous polls, however, doesn't support that conclusion. Last year, for instance, French approval for U.S. leadership rose by 12 points. Following a slight drop in some cases from 2009 to 2010, U.S. leadership approval ratings in France, Germany, Italy, Spain, the U.K. (to name some leading NATO members) and among U.S. treaty allies in Asia have ranged within a narrow band -- and most of them have remained as much as twice as high as they were during the later Bush years. (You can find similar results in polls of G-20 countries by the Pew Research Center.)
One notable exception is Israel, which gave U.S. leadership higher ratings in 2007 and 2008 than it does now.
Of course, even if U.S. allies still appreciate and admire the U.S.'s leading role, that doesn't mean Republican criticism of the U.S. position in the world doesn't strike a nerve at home. As Jon Clifton, managing director of the Gallup World Poll, told me, "Republicans are hitting on an issue that's concerning a lot of Americans, considering that only 37 percent of Americans are satisfied with the U.S.'s standing in the world today compared with the early 2000s, when upwards of 71 percent of Americans felt that way."

But again, it's worth noting that, even among Americans, public discontent peaked at the end of the Bush years. The abiding American dissatisfaction with the U.S. position in the world since then also parallels growing skepticism about U.S. international engagement. Results from Pew's "America's Place in the World 2013" poll showed "the most lopsided balance in favor of the U.S. 'minding its own business' in the nearly 50-year history of the measure."
Keep in mind that the U.S. topped this year's survey, which took place throughout 2014, even as Russia was annexing Crimea, Islamic State was beheading its way across the Middle East, Ebola was taking its toll in West Africa, and Europe was dealing with an unprecedented crisis in Greece.  There's no doubt that under Obama, the U.S. has retrenched in the Middle East, with dire consequences for millions of Syrians and Iraqis. In dealing with Ukraine and Iran, the Obama administration has also erred more on the side of keeping its diplomatic coalition intact than on pushing maximalist positions.
That approach may get less applause than saying "either you are with us or you are with the terrorists." But these poll results suggest that less leadership along those lines is something most U.S. partners and allies can live with. Whether a new crusade against "evildoers" will sweep someone like Jeb Bush into office, however, is another question -- one that U.S. voters will answer in 2016. 
This column does not necessarily reflect the opinion of Bloomberg View's editorial board or Bloomberg LP, its owners and investors.