Presidential Campaigning, Collegiate Division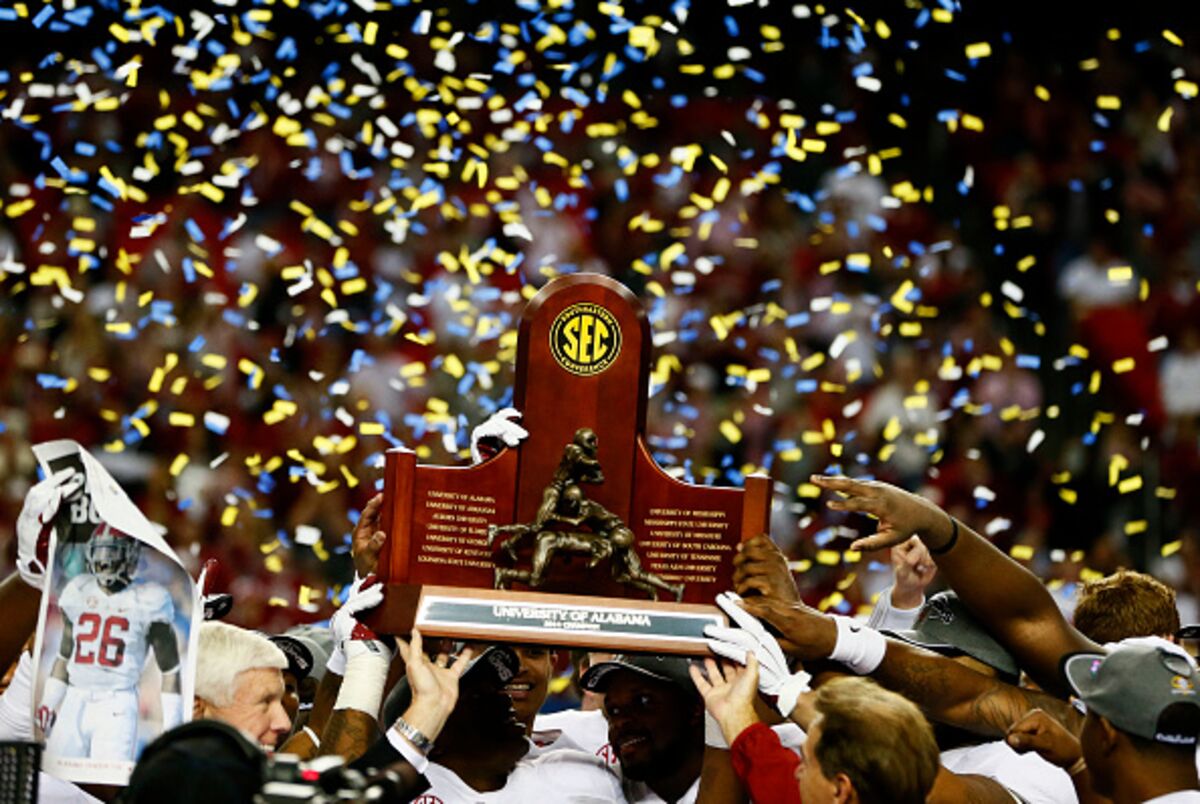 A future presidential celebration?
Photographer: Kevin C. Cox/Getty Images
Presidential politics and college football have a long and (not always) honorable history, from Teddy Roosevelt's intervention to make the game safer 110 years ago to Richard Nixon's clumsy attempt to crown a national champion in 1969. Now an obscure state official wants to create a presidential primary process that mirrors a college football conference.
It's absurd, gimmicky, opportunistic … and promising. Almost any change to the current presidential nominating process would be an improvement.
Georgia's Republican secretary of state, Brian Kemp, has proposed an "SEC primary" in 2016. He's urging states with colleges or universities in the NCAA's Southeastern Conference to hold their presidential primaries on March 1.
Right now, these 11 states hold primaries from March to May. Under the current system, states jockey with one another for influence, which usually means trying to push their primaries and caucuses to the front of the line. The parties have tried to prevent this kind of front-loading by, as Kemp might say, penalizing those who jump offsides.
For 2016, any state (other than Iowa, New Hampshire, Nevada and South Carolina, which have been granted sacred status) that moves its nomination to earlier than March 1 risks losing delegates to the parties' national conventions. There's no penalty for holding a primary or caucus immediately thereafter, as Kemp is now urging the Southern states to do.
He earns points for creativity -- but he doesn't go far enough. Why stop at merely an SEC primary? There are a lot of collegiate athletic conferences. A Pacific-12 primary might give California relevance in the nomination process -- something the nation's most populous state hasn't had for decades. A Big Ten primary would focus more attention on Midwestern cities. An Ivy League primary would force candidates to declare which of their alma maters they are most loyal to. And so on.
It's important not to overthink this. There is no way to align states and conferences perfectly, because states are home to multiple conferences. Which presidential primary conference should Florida belong to? Would states be allowed to switch conferences? What about South Bend, Indiana?
Let elected officials decide these questions. So long as the regions are reasonably balanced, voters and candidates will be well served. To kick off the debate, here's a look at how the map might look, bowing to the reality that neither parties nor elected officials are likely to strip Iowa and New Hampshire of their traditional first-in-the-nation status. With nine regions, if contests were held every two weeks, primary season would last from March to June. 
It's also important not to overlook one of the main problems that Kemp's proposal tries to address: the front-loaded primary system, which favors the well-funded candidate over the insurgent underdog. The more compressed the primary calendar, the easier it is for the front-runner to lock up the nomination. The National Association of Secretaries of State has long supported federal legislation that would divide the country into four regions, each of which would hold a primary election in the four months from March to June. Every four years, the order would rotate -- the last would be first, and so on.
So Kemp's proposal is not quite from left field, to switch the sports metaphor for a moment. And it just may help to increase Americans' interest in politics -- even if it will never quite match their passion for college football.
To contact the senior editor responsible for Bloomberg View's editorials: David Shipley at davidshipley@bloomberg.net.