The Point of an Auschwitz Trial, Even Now
The winning side in World War II had its own Oskar Groenings, and they will never be convicted.
by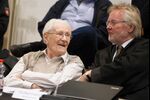 The trial of Oskar Groening, a 93-year-old former Auschwitz guard, goes far beyond questions of absolution and punishment for a single German. Groening, after all, is not likely to serve out any prison term the court in Lueneburg may hand down -- or enjoy a surprise acquittal for long. The trial's aim is to send a message to future generations while not seeming like a show trial -- a difficult task for Judge Franz Kompisch, born in 1967.