view
South Koreans Bicker Over Their Tanking Economy
A blame game won't fix the country's household debt bubble.
by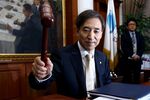 As South Korea slides toward deflation, officials in Seoul seem mostly interested in pointing fingers at one another. Central bank chief Lee Ju Yeol says the government should boost spending and implement structural reforms. President Park Geun Hye's team thinks lower interest rates are the answer. Until they resolve their differences, 50 million Koreans will be forced to suffer an underperforming economy.
In truth, both sides are right. Lee should slash the Bank of Korea's 1.75 percent repurchase rate by at least 50 basis points; Park should announce a sizable spending package and prod huge companies like Samsung and Hyundai to raise wages. But Lee and Park should also acknowledge that they would achieve more by acting together on the biggest headwind holding back Korea: a household debt bubble 18 years in the making.
When Korea's economy crashed in 1997, the catalyst was massive corporate debt. As part of its recovery efforts, Seoul created incentives to shift the nation's debt profile away from the country's family-owned conglomerates, or chaebol, and toward households. The idea was to make the economy less top-heavy, while suffocating the country's rampant cronyism.
Seoul is still grappling with the fallout from that strategy. At 81 percent, its household debt-to-gross-domestic-product ratio far exceeds that of the U.S., Germany and China, according to McKinsey. Household debt is now curtailing domestic consumption at the same time as the country's export markets are drying up.
Korea's plight is actually a worldwide story. Many countries, from the most developed to the least, are currently held back by an unfortunate mix of unsustainable debt and timid economic leadership. But Korea's open, trade-reliant economy has always magnified global economic trends.
Household debt is enough of an existential threat to the Korean economy that the government has convened a special panel to consider solutions. But Seoul shouldn't need a panel to instruct it not to compound the problem. Earlier this year, it loosened mortgage rules and reduced limits on developers. That was an understandable response, insofar as real estate accounts for at about 75 percent of household assets, but it exacerbated the country's debt crisis. Household debt has ticked up more than $7 billion so far this year to $489 billion -- more than South Korea's GDP.
What should Seoul do? First, the central bank and finance ministry should coordinate moves to ease both monetary and fiscal policies. This should be accompanied by regulatory tweaks to tamp down the debt bubble, including higher mandatory down payments on new homes and bans on risky mortgages. Next, officials should tighten the screws on the chaebol, which are hoarding $2 trillion-plus of cash that could be better used to fatten paychecks and to invest in new job-creating industries. Park has proposed a tax on excessive cash piles -- she should finally impose it.
Korean officials should also learn from mistakes made by the U.S. After Wall Street's 2008 crash, Washington bailed out banks sitting on massive mortgage-related assets with its Troubled Asset Relief Program, or TARP. Hindsight suggests aiding households might have paid bigger and faster dividends for the national economy. Korea should launch a TARP for consumers -- a new entity that could buy distressed mortgages directly from the neediest households.
The International Monetary Fund has supported this general approach of "targeted household debt reduction policies." In a 2012 report, for example, IMF economist Daniel Leigh held up the success of America's "bold" household debt reduction programs during the 1930s and Iceland's more recent policies in the same vein. "Because debt is acting as a brake on economic growth, it is important to unstick the brake," Leigh argued. 
Park is clearly aware of the problem of household debt. Reducing debt was one of her main campaign pledges in 2012. Early on, she toyed with a state-run National Happiness Fund to curb credit card usage and help low-income borrowers restructure defaulted loans. Funding, however, has fallen way short of the targeted $16 billion. To restore the country's $1.3 trillion economy to health, Korea needs to add a zero to that budget.
But none of this will be possible as long as the central bank and government play the blame game. Korea needs a little less finger-pointing and a lot more debt forgiveness.
To contact the author on this story:
Willie Pesek at wpesek@bloomberg.net
To contact the editor on this story:
Cameron Abadi at cabadi2@bloomberg.net
Before it's here, it's on the Bloomberg Terminal.
LEARN MORE