view
Powa CEO Wants to Make His Unicorn a Legend
In Powa CEO Dan Wagner's vision of the future, we scan and buy stuff whenever we want with the touch of a button. We're constantly committing spontaneous acts of commerce.
by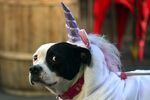 "I'm making a bigger business than Alibaba," Dan Wagner, the chief executive officer of Powa Technologies, said during our hourlong phone call.
Alibaba, as you may recall, is the online retail company that raised $25 billion last September in the largest-ever U.S. initial public offering. Its valuation has climbed past $200 billion. Powa, by contrast, is an unprofitable, privately held British startup. Its two existing (and money-losing) divisions include a smart cash register setup that's not entirely unlike Square, and Powa Web, which provides e-commerce infrastructure for about 600 retailers.
But Wagner is betting the farm on the PowaTag, which launches this summer in multiple locations in Asia, Europe, the U.K. and the U.S. Powa has so far raised about $156 million to roll out the new product. Wagner says that all outside capital has come from Wellington Management. (Wellington declined to comment on the investment.)
Powa is now valued at around $2.7 billion, more than the market cap of the Chinese Internet company Sohu.com or the online storage company Box. With that valuation, Wagner's startup is a member of the growing club of private companies with billion-dollar (or higher) valuations known as "unicorns."
The momentum behind PowaTag, which Wagner calls the "biggest tech business you've never heard of yet," is emblematic of the trends that make the private markets such a hot place to be. (Or a little too hot, as some investors fear.) Those currents are swept along by a clamor for anything consumer-oriented and mobile, companies raising huge private investment rounds, and U.S. investors looking overseas for deals.
Wagner himself became briefly infamous after the first dot-com crash, and now he's reaping the benefits of the current boom -- so his story is also emblematic of how forgiving investors are of entrepreneurs with the right ideas at the right time.
Let's begin with the PowaTag, a cross between an on-demand app like Uber and an online retail play, all powered by the company's payments technology. In essence, users put their credit card and delivery information into an app, then scan PowaTags to purchase stuff on the spot.
The twist is that PowaTags, which often take the form of QR codes, turn the physical world into a mobile shopping experience. The tags will be found in stores (Powa's website shows enormous QR tags hanging from dresses), in magazines, in ads and online. Powa even created "sound tags" that play during commercials so your phone can hear a tag and purchase an item for you. In Wagner's vision of the future, we scan and buy stuff whenever we want with the touch of a button. We're constantly committing spontaneous acts of commerce.  Shop, shop, shop.
Like the high-flying IPOs of 1999, unicorns have come to define the current tech boom. The venture capitalist Bill Gurley has been troubled by all the large, high-priced, private financings because lots of unicorns are being funded like they're high-revenue, high-growth, potentially profitable businesses -- when they're not actually hitting those milestones.
Wagner concedes that Powa is nowhere near being profitable, but he's hoping for an IPO next year. About 1,200 brands worldwide -- including big names such as Adidas, Carrefour, L'Oreal USA, Nicole Miller and Unilever -- have signed up to use PowaTag. Merchants pay Powa a small fee on every transaction. But until we all start tagging and buying, the company won't make money.
Billion-dollar startups like Powa are cropping up with greater frequency in Europe and Asia. Spotify is Europe's top unicorn, though Farfetch and Shazam recently joined the club. China's Xiaomi is the most highly valued unicorn in the world. Investors like the fact that companies overseas are often cheap relative to their Silicon Valley comps.
I lost count of how many times Wagner informed me that Powa will be the world's largest mobile engagement platform and largest tech company. So I wasn't super-surprised to see that back in 1995, when he was prepping his first company, MAID, for a listing on the Nasdaq, Wagner told the Independent: "We are on the threshold of building the largest on-line business in the world."
MAID, an early online information provider with Bloomberg Terminal-type ambitions, went public, renamed itself Dialog, took on a lot of debt, and then the stock crashed along with the dot-com bust.
Wagner, who at the time was Britain's youngest public company CEO, sold the information business to Thomson Reuters. Ridicule followed (the company was dubbed Dial-a-Dog by the news media), and Wagner laid low for several years. He started investing in online retail and fashion blogs, and eventually formed Powa to "give our merchants power."
Wagner, who still has the bravado of a very young CEO, is right about a lot of the issues retailers face. Amazon freaks out brick-and-mortar stores, which need a way to sell online. The catalog business is dying. And mobile shopping has stagnated in part because it's such a pain to put credit card information into tiny mobile phone fields.
But can you see yourself pointing your phone at inanimate objects to get stuff seamlessly delivered to your door? Will you wander the aisles of Carrefour taking snaps of PowaTags, or will you order your groceries online through a service like Amazon? Will you scan PowaTags for your regular shopping needs (as lots of Amazon Prime members do), or will you use the app to make spontaneous purchases off of bus stop ads or store windows?
The answers will determine whether Wagner finally gets to build the largest tech company in the world ("Bigger than Facebook!").
Amazingly, Wellington just poured almost $160 million into Powa before really knowing whether Wagner can change the way we shop. (To support his company's $2.7 billion valuation, he'll need to do exactly that.) I suppose that's the sort of risk that produces venture capital's rare, huge 10x or 100x returns. But the trends and business vision that made Powa a unicorn won't necessarily make it gallop.
(UPDATE: After this column appeared on April 22, Mr. Wagner expanded upon his comments, telling Bloomberg View that two Powa divisions, PowaWeb and Powa POS, were, in fact, profitable. Mr. Wagner also told the View, post-publication, that Bright Station Ventures should be considered a second external investor in Powa Technologies. While Mr. Wagner is a shareholder and a director of both Bright Station and Powa, he said that he doesn't consider them to be related entities.)
To contact the author on this story:
Katie Benner at
To contact the editor on this story:
Timothy L. O'Brien at tobrien46@bloomberg.net
Before it's here, it's on the Bloomberg Terminal.
LEARN MORE