Europe Wrestles with the Gazprom Cronies
Gazprom will settle the charges brought by the European antitrust authorities because it understands that its old business model is doomed, anyway.
by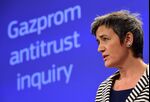 By reactivating its antitrust case against Russia's state-owned natural gas producer, Gazprom, the European Commission will probably help five former Communist countries get Russian gas at lower prices. Arguably, however, it shouldn't have bothered: These and other countries are doing a lot by themselves to make their energy markets more competitive. And Russia is wrong to cling to Gazprom's politicized business model. It's in everyone's interest to turn the company into more of a market player.