Americans Will Love Obamacare in 2020
Obamacare recipients like their benefits.
by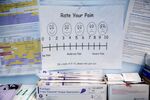 Good news for Obamacare supporters: It's quite a bit less unpopular than it was a few months ago. The uptick leads to the question: Will the Affordable Care Act ever actually be popular? Looking at the long run, Republicans may have done the law a favor by naming it Obamacare.