House of Zzzzzzzzzzz ...
Season 3 of "House of Cards" ditched the dark fun for vague, boring policy drama.
by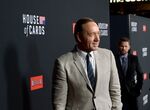 I've been trying to figure out why the third season of the Netflix drama "House of Cards" proved such a disappointment. I think I've hit on the answer -- but I can't explain without spoilers.