The Supreme Court Is Worried About the Police
Justices place new limits on traffic stops, in a nod toward Ferguson and other recent examples of police abuses.
by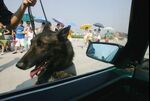 Are the past year's examples of racially charged police abuses from Ferguson to Staten Island to North Charleston affecting the U.S. Supreme Court? In a subtle way, the answer may well be yes.