Super-PACs Kill the Presidential Campaign
Campaigns are about people. Super-PACs are about very few, very rich people.
by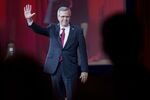 American elections are being outsourced. The Associated Press and National Journal have each reported that former Florida Governor Jeb Bush's nascent presidential campaign is about to do something as logical and inevitable as it is alarming: entrust the thrust and parry of the campaign to a super-PAC run by Mike Murphy, his chief strategist.