Obama Kept Iran's Short Breakout Time a Secret
Obama has long said Iran was a year away from breakout. Now he says 2 to 3 months. What gives?
by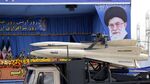 The Barack Obama administration has estimated for years that Iran was at most three months away from enriching enough nuclear fuel for an atomic bomb. But the administration only declassified this estimate at the beginning of the month, just in time for the White House to make the case for its Iran deal to Congress and the public.