Editorial Board
Defaults Are Just What China Needs
Defaults this week by a major Chinese property developer and a state-owned company provide a dose of market realism that China sorely needs.
by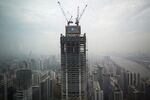 So far this week, China has witnessed a default by a major property developer and another by a state-owned company. Dubious firsts, to be sure, but they couldn't have come at a better time. They provide a dose of market discipline that China sorely needs. 
The country's 7 percent growth in first-quarter gross domestic product can't mask the flashing-red indicators that its economy is running into trouble. Industrial output, fixed-asset investment and retail sales have all slowed; land sales are contracting. The industrial sector's 6.1 percent growth outpaced retail and wholesale trade, according to Bloomberg Intelligence, suggesting that the vaunted shift from manufacturing to services isn't happening as hoped. Prices are falling almost across the board. 
All this bad news puts pressure on Beijing to do more to stimulate the economy. Over the weekend, the People's Bank of China issued a bigger-than-usual cut to the ratio of reserves banks must hold, in effect adding almost $200 billion worth of new liquidity. For now, leaders seem hopeful they can direct where that money goes. Regulators have clamped down on margin financing, for example, to discourage the funds from flowing into an overheated stock market. Banks focused on agricultural development have received even deeper cuts to their reserve ratios, while authorities have encouraged China's big policy banks to lend to small and medium enterprises and strategic projects such as clearing slums. 
All this comes on top of an earlier reduction in the reserve requirement and two rate cuts. Yet demand for loans remains sluggish, because companies are already heavily indebted, and the outlook for growth is uncertain. The central bank might need to slash rates again. 
The danger in this is that a new wave of easy money might only add to what is already one of the world's scariest debt piles. The stimulus Beijing unleashed after the global financial crisis swelled China's total debt from about 150 percent of GDP in 2008 to more than 250 percent today. Even though credit growth has slowed, it's still higher than nominal growth, so the debt-to-GDP ratio continues to rise. That doesn't guarantee a crash, as some are predicting, given the government's control over the financial sector. But once debt reaches these levels, it becomes a drag on growth, as more and more loans go into patching holes rather than productive investments. Further rate cuts could worsen China's already inefficient allocation of credit, allowing new loans to prop up ailing state companies and property developers -- two of the three sectors (along with local governments) most responsible for the run-up in debt since 2009. 
This week's events should help clarify the risks for all concerned. Until now, the government has prevented such defaults, for fear of contagion. (Even after allowing panel maker Chaori Solar to go bust last year, Beijing stepped in to make bondholders whole.) Yet unless borrowers and creditors believe there is a cost to failure, they will continue to make bad decisions and deepen the risk of a financial crisis. 
By allowing Kaisa, a high-profile Shenzhen property developer, to miss $52 million in interest payments on Monday, and Baoding Tianwei Group, a state-owned manufacturer of power transformers, to do the same with a $13.8 million payment due Tuesday, China may be signaling that the age of bailouts is over. In Kaisa's case, markets had already priced in the likelihood of a default and have taken the news relatively well. 
Chinese Premier Li Keqiang has implied that the government will allow "case-by-case" defaults as long as they don't pose systemic risks. More clarity on where Beijing draws the line would help: If investors had a better idea which companies and financial products will be protected, they'd be able to price risk for those that won't be. Before China opens up the stimulus spigots again, it would help to know who might get washed down the drain.