Why Hillary Is Really Pushing Campaign Finance Reform
The most logical reason for Clinton to be talking about campaign finance right now has to do with her unusual position as the presumptive Democratic nominee.
by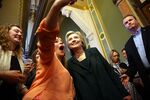 Why has Hillary Clinton taken up campaign-finance reform as a big issue in her presidential campaign? Some people say she is trying to inoculate herself from attacks on her own campaign's prodigious fund-raising and on contributions to the Clinton Foundation. Others say it must be because campaign finance is emerging as a populist issue for 2016.