Stopping Refugee Shipwrecks
Europe alone should not be responsible for stopping refugees from drowning between Libya and Italy. The U.S. and its non-European allies also have a part to play.
by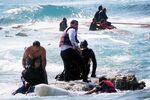 There were ways to save the hundreds of people -- perhaps 700, maybe even 950 -- who drowned off the Libyan coast yesterday while attempting to escape to Europe. And there are ways to save those who inevitably follow them onto the high seas. But the first step is for countries to stop passing the buck. The responsibility falls not just to European nations, but to the U.S., too.