Should Victims Say How Boston Bomber Pays?
Martin Richard's parents have made their wishes known, but the U.S. attorney works for the public as a whole.
by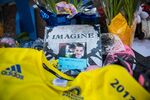 Should Bill and Denise Richard, who lost their 8-year-old son Martin in the Boston Marathon bombing, have a special say in whether Dzhokhar Tsarnaev gets the death penalty? The question goes beyond the family's tragedy or even the problem of terrorism. It gets to the heart of why we punish criminals -- and why we sometimes execute murderers. The answer we give will tell us something important about how we want the law itself to work.