Segway's Second Chance in China
China is in desperate need of the sort of transportation revolution that Segways once promised.
by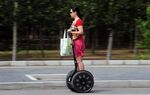 Segways are a revolutionary mode of transportation embraced by mall cops and helmeted tourists, but seemingly very few others. Some cities have banned them. A U.S. president has toppled off of one. And in 2010 the company's (then) owner accidentally drove his off a cliff. Yet despite these setbacks, and sales that have never approached expectations, Ninebot, a Chinese Segway competitor, announced last week that it was purchasing Segway for an undisclosed sum.