Russia's Economy Steps Back from the Brink
The country has taken a big hit, but new data offer some hopeful signs.
by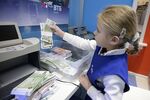 It's been fascinating to watch the Russian economy adjust to sharply lower oil prices. With a little help from the central bank, the country's recession might not be as bad as previously thought.