How the Internet Became a Shame-Storm
There are few things people hate more than feeling shame. And yet, there are few things that people love more than shaming others.
by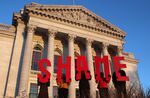 Leadership gurus often talk about blame-storming, which is just like brainstorming, except that the purpose of the meeting is to find a scapegoat for something that has gone wrong. Social media is now producing what you might call "shame-storming," where some offense (real or imagined) is uncovered, and a horde of indignant tweeters quickly assembles to publicize the transgression and heap imprecations on its author. This is the topic of Jon Ronson's new book, "So You've Been Publicly Shamed," which seems to have gotten generally good reviews on Amazon and in traditional news media but has attracted quite a bit of pushback from the mostly online world that it covers.