What Political Scientists Can't Get You to Believe
"Independents" are already committed. Gerrymandering didn't cause polarization. Donations to general elections are wasted.
by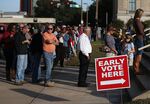 What have political scientists discovered about U.S. politics that you probably don't accept? I asked about that on Twitter a few days ago, and received a whole bunch of interesting answers.