Finding the Value in Finance
Many people hold the simplistic view that finance does anything of value.
by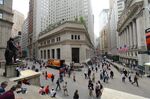 Does finance create value? Does it just siphon money from some people and give it to others? Does it destroy value? I see people asking these questions all the time for a pretty obvious reason: there has been broad public suspicion of finance for as long as the industry has been around. But if  we want to try answering these questions, there are some tricky issues we need to think about.