Where Have All the Consumers Gone?
Consumers aren't opening their pocketbooks because wages remain low, companies continue to cut labor costs, home prices are still below their pre-recession peak, baby boomers need to bolster retirement accounts and, most ominously, deflationary expectations may have taken hold.
by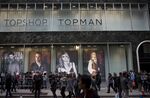 Retail sales rose less than expected in March after declining for three consecutive months. Since the U.S. began collecting data in 1967, only twice has it seen three-month stretches of waning retail sales in non-recessionary times.