Dear Ben Bernanke: Pace Yourself and Have Fun
Here's some career advice for the former Federal Reserve chairman.
by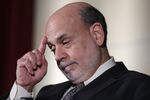 Dear Ben,
If I might be so bold as to assume we can be on a first-name basis, let me be among of the first to say, congrats on the new gig!
You have been quite the busy ex-Fed chairman, what with the new job and office at Brookings and a red hot new eponymous blog. Today we learned you entered into a consulting deal with Citadel, Kenneth Griffin's $25 billion hedge fund. I feel safe in assuming that as a sharp student of economic theory you made sure to let market forces dictate your compensation. There's only a limited supply of ex-Fed chiefs and the demand is huge.
Kudos!
After eight years of thankless duty as head of the world's most important central bank, no one will begrudge your efforts to monetize the insights and experience you gained there. I am sure your attorneys vetted this arrangement, and there are no obvious conflicts of interest. But be aware that this has the appearance of the usual Washington-Wall St. revolving door; some critics may not be mollified by the fact that the Fed was never Citadel's regulator.
Nevertheless, all of this activity is starting to look a bit frenetic. Allow me to share some unsolicited advice:
Pace yourself!
You are going to burn out if you're not careful. As your Fed predecessors Paul Volcker and Alan Greenspan have shown, you are likely to have a long post-chairmanship ahead of you. You don't want to risk an early burnout from taking on too much too soon. It's a real possibility, not something to be shrugged off.
The good news is that Griffin by most accounts is a good boss; people seem to really like working at Citadel. The bad news is you are running at a very fast pace, with long-form blog posts and epic, wonky battles with the brilliant Larry Summers (all processing power, suspect judgment). Trolling the guy who helped cause the financial crisis, angled to replace you at the Fed, then spent years criticizing how you ran things was pure genius.
I have been a dedicated observer of the Fed's response to the financial crisis (that's my job) and always tried to look objectively at whether the actions were justified by economic conditions. However, lots of others were angry to the point of irrationality. Sure, the blog and the forthcoming book are a great opportunity to rebut your critics. As Fed chairman, you were somewhat constrained from responding directly. But as a former Fed chief, you are free to fire away.
But be smart about picking your battles. Summers, just to cite one name of many, will not go away quietly. And remember the rules of asymmetrical warfare. Those who appear weak often use contemptible, yet effective methods. Much of the time, adversaries in this camp can be ignored. The trick is to know when to deliver a counterthrust.
Quality is everything.
Remember too, blogging is a marathon, not a sprint. You don't want to flame out (like Marc Andreessen, whose wonderful pmarca blog was a brief shooting star). I know what I speak of, after 30,000-plus blog posts.
You have a very busy schedule for the rest of this year. Your book, "The Courage to Act: A Memoir of a Crisis and Its Aftermath, will come out in October. Don't underestimate what a slog it is to promote a book. I suspect you might think it is just hitting a few chat shows, and waiting for the laudatory reviews to roll in. But ask around -- it's a lot more than that, and it can become a drag very quickly.  It will be a different beast from the soft launch of your collected speeches in "The Federal Reserve and the Financial Crisis." 
And have some fun!
Don't make your post-Fed career all drudgery. Do a Reddit AMA. Make surprise appearances, say, like the Stones showing up to play a small club in Cleveland. Use Twitter creatively. Hit "The Daily Show" before Jon Stewart leaves. (By the way, if you want to do the Master's in Business radio show/podcast, have your people reach out to my people.)
Remember: All wonk and no play makes Ben a dull boy.
All the best,
Barry
This column does not necessarily reflect the opinion of Bloomberg View's editorial board or Bloomberg LP, its owners and investors.
To contact the author on this story:
Barry L Ritholtz at britholtz3@bloomberg.net
To contact the editor on this story:
James Greiff at jgreiff@bloomberg.net
Before it's here, it's on the Bloomberg Terminal.
LEARN MORE