An Endgame to Blindly Following Rules
A chess player's harmless notes of encouragement cost him a match. There's a lesson here about the over-regulation of life.
by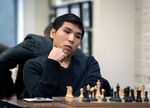 There's a wonderful old British case involving a farmer named Lawrence Burr, who was stopped while driving a tractor along a public road. The tractor was pulling a chicken coop to town, where it was to be sold. For the purposes of the brief trip, Burr had fixed iron wheels to the underside of the coop.