When Women Were on the Money
Women -- if only as allegorical figures or in idealized form -- were once ubiquitous on the nation's currency. They only lost their place of honor once their flesh and blood counterparts got the right to vote.
by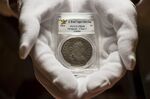 Should a woman replace Andrew Jackson on the $20 bill? The feminist organization WomenOn20s thinks so. After soliciting nominations over the past year, it announced the final four this month: Eleanor Roosevelt, Harriet Tubman, Rosa Parks, and Cherokee chief Wilma Mankiller.