Obamacare's Tax Day Mystery
Anyone who confidently predicts what is going to happen next with Obamacare enrollment is likely to confidently make a fool of themselves.
by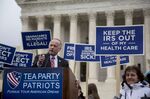 For a while now, I've been saying that the most important Obamacare deadline this year was not the end of open enrollment on the exchanges, but April 15. That's when lots of people find out that they owe money to the government -- either because they didn't have insurance and therefore get hit with the individual mandate penalty, or because they found out they received too much in subsidies and now owe money to the government.
So how's it going? As with many things about this law, it's hard to tell.
My working assumption has been that the mandate and the "clawback" of overpaid subsidies would have two main effects:
Angry outcry from voters who found out that the program was costing them money.
Folks who got hit by the mandate penalty grudgingly toddling over to the exchanges and buying insurance so they wouldn't get hit with it again next year.
Effect 1 has been more muted than I thought -- or, if there is such an outcry, it hasn't reached the media. I don't know what voters are thinking in the privacy of their own hearts or saying to their legislators.
Effect 2 is yet unknown. The Barack Obama administration has permitted a special open enrollment period for folks who didn't have coverage in 2014 and are only now realizing that this cost them money at tax time. That period ends April 30, so we won't know until then whether tax season has brought us a surge of new enrollees.
Meanwhile, Louise Radnofsky of the Wall Street Journal offers an example of Effect 3, which I confess hadn't occurred to me: folks who were covered in 2014, got their refund docked to cover subsidy overpayments, and therefore decided to cancel their insurance for this year.
At first blush, this seems irrational. You don't need to cancel your insurance to make sure that your tax refund remains intact; you just need to do a better job of estimating your income when you go to buy your insurance so that you don't end up with overpayments. Of course, the taxpayer in question might not have bought the insurance if she'd known what it was actually going to cost her. Evidence suggests that the level of participation in the insurance exchanges is directly tied to how big a subsidy you get.
I don't want to overgeneralize from one example; we don't know how many people will follow in the footsteps of Marta Chapman, the woman in Radnofsky's article who decided to cancel her insurance. This law is incredibly complicated, with all sorts of unforeseen consequences and interactions between the various parts. Anyone who confidently predicts what is going to happen next with enrollment is likely to confidently make a fool of themselves.
This column does not necessarily reflect the opinion of Bloomberg View's editorial board or Bloomberg LP, its owners and investors.