VW Needs a Change at the Wheel
The rift between Volkswagen's chairman and chief executive is drawing attention to its byzantine corporate politics, but it's the company's business that needs attention.
by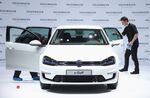 With a single dismissive comment, Ferdinand Piech, the 77-year-old patriarch of the German car industry and chairman of the supervisory board at Volkswagen, has set in motion a power struggle within the giant car company. But he's probably right to hint that Martin Winterkorn, VW's chief executive, needs to go.
On Friday, Der Spiegel quoted Piech saying, "I distance myself from Winterkorn." That's not a direct threat to fire the CEO, whose contract runs out at the end of next year; Piech doesn't have the votes on the 20-member supervisory board to make the change. But it was enough to get corporate insiders to prepare for battle.
Though the company's founding family owns 51 percent of VW, the Piech branch of the family has only three seats and the Porsche branch has two. The German practice of involving all stakeholders in corporate governance means employee representatives hold 10 seats, and the German state of Lower Saxony, where VW is headquartered, is allotted another two. Representatives of all the stakeholder groups except Piech's own have for now rallied behind Winterkorn, who has run the company since 2007 and is Germany's highest-paid chief executive.
Nevertheless, Piech's seeming isolation may suggest that his 22-year-rule at VW is drawing to a close. He's long past retirement age and has been planning to step down in 2017. Now, we're in for months of speculation about potential successors to both Winterkorn and Piech himself. But even though Volkswagen, with 583,000 employees, is big enough to be a European country and is run like one, it is, after all, a carmaker, and Winterkorn has so far failed to make progress in key areas of the business.
On the surface, his tenure has been remarkably successful: In 2007, according to data compiled by Bloomberg, VW was only the fifth biggest car manufacturer globally in terms of unit sales. Last year it rose to second place behind Toyota, and in 2015 -- three years ahead of the company's own plan -- it's expected to beat the Japanese manufacturer for the top spot. Yet VW's market share in global car sales has actually dropped slightly in the past seven years, to 9.7 percent from 10 percent. While the company has largely grown along with the market, it's  failed to make significant progress in the U.S. and in the competition for electric and hybrid cars.
As part of its global dominance plan for 2018, VW hopes to sell 800,000 cars in the U.S., but it's not making progress toward that goal. Last year's sales of Volkswagens, Audis and Porsches reached only 596,000, down from 608,000 in 2013, according to data compiled by Bloomberg. The company had a 3.6 percent market share last year, up from 2.2 percent in 2007 but still negligible compared with 14 percent for Toyota. Winterkorn ate crow about this last month, saying the company had gotten too complacent after its Passat model, built in Chattanooga, Tennessee, became a modest success, but then lost 10 percent in sales in a growing market. That was a lame explanation: VW's failure to catch up to U.S. market leaders is such an obvious anomaly that complacency has never been called for. Now, the German company is missing out on the American economic rebound.
VW is also behind its main competitors when it comes to selling electric and hybrid cars. It aims to be the biggest maker of electric vehicles by 2018, but, thanks to business decisions made under Winterkorn and his predecessor Bernd Pischetsrieder, the company came late to the race. Its environmental impact is below the industry average and almost level with Toyota's, but VW has managed to reduce emissions by making a big bet on diesel engines. In the market for hybrids and electric cars, it's dwarfed by Toyota, Nissan and Ford: 

Last fall, in an impassioned speech at the Paris auto salon, Winterkorn told regulators to stop tightening environmental standards for the car industry. "Every gram of reduction in CO2 costs us 100 million euros," he told his audience as he presented new hybrid models. Well, the company could have made the investment earlier, as Toyota and others did.
For an executive who made 15.9 million euros ($16.8 million) -- more than four times the average for the leaders of Germany's top 500 listed companies -- such persistent problems are embarrassing. Piech, who has tutored Winterkorn, bears some of the responsibility, but he's not going to stick around until 2018. It's understandable that he wants a change of leadership now to secure his legacy and the company's future.
This column does not necessarily reflect the opinion of Bloomberg View's editorial board or Bloomberg LP, its owners and investors.