The Rise of Nokia's Also-Rans
The infrastructure business that Nokia didn't really want is now the company's future.
by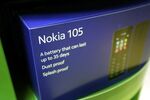 In 2006, Nokia decided to spin off its also-ran mobile networking equipment business into a joint venture with fellow also-ran Siemens. That same year, French equipment maker Alcatel and its U.S. counterpart Lucent (AT&T's former equipment division), both still nursing their wounds from the turn-of-the-millennium telecom boom and collapse, combined forces.